links to other component pages
[ Back to:V8 engine and component information and pricing ] [ Carburation & fuel Injection ] [ Electrical ]
[ Transmission 2wd & 4wd ][ Suspension, Handling,Tyres, Wheels & Brakes ] [ Stainless & Mildsteel Exhaust systems ]


Please consider these pages where created 10 years ago and are for Historic Information Purposes Only. For current stock, prices and information please visit our V8 Engine and Component listings in our eBay shop.

You can find more advice on choosing your best engine options...
On our "FAQ" Pages

Click here,Its official no problem with CA Smog Test On this 4.2 to 4.6 conversion.
---
General descriptions and terms, unless stated otherwise
---
Short Engine=
All new Block, Rods Crank & pistons Fully assembled. Suited to all fast road use and home builds.
Long Engine=
As above with Heads, Rockers, Rocker shafts, Timing gear Cam, Tappets and all fixings.
(With both of the above, some caution must be observed when re-using parts from your original engine or other suppliers.)
Full Engine=
All the above, but with sump, Rocker Covers, Oil Pump & Gears, Water pump, and Timing Cover
---
The all new 4.8 - 5.2 V8 Engines from Rpi,
are the latest word in V8 performance and Power.
---
The all new 4.8 - 5.2 V8 Engines from Rpi

We start with the latest cross-bolted 4.6 engine, as found in the all new Range Rover HSE models and further increase its potential and power with this impressive list of upgrades. But first we have found its weaknesses and this is where all the following upgrades evolve from.

Due to our vast Rally experience, with these engines it has been found that the first weakness with the stock 4.6 is the pistons, however if your goals are not for full race use then you need not worry, as we have built many fast road 4.6. using stock pistons with 100% success

In some countries where the fuel quality has been poor, or low octane then pushing power beyond 280bhp has in some cases caused the pistons to be the first weak ness in these very strong engines. So to add the reliability you would expect for race and competition from all Rpi engines. The pistons are the first level of upgrade you can expect. this is why the 4.8 uses non std Omega Pistons. And is at the starting point of our race engine upgrades. Thus leading up to our Flagship engine, the 5.2.



To See an Online 5.2 engine being built. "Click Here" or on the picture above.?
---
The 4.9

The 4.9 has all the higher spec.'s listed above for the 4.8, but the next vulnerable area of the V8 Engine is going to be the Connecting Rods, but again remember these could only be a weakness when considering power above 300bhp and or full Race use, for this reason we are using the World acclaimed Arrow Rods,, the additional cc and engine strength would allow reliable power option above 300bhp and 7200rpm.
---
The 5.2

This is at present the state of the Art, as far as the Rover V8 engine is concerned, balanced to the highest standards, blueprinted beyond blueprints and with unique t-top liners the maximum capacity is attained with no fear of piston liner shifting up or down the bore, the t-top design and the machined supporting lip in the engine casting make this an engine that can handle well in excess of 400bhp.
---
Warning against Supercharging the 4.0 or 4.6 Engine

Those with supercharges, will also discover this. On most supercharged engines, Especially those using the Eaton M90), poor fuel distribution and weak mixtures eventually cause detonation that will collapse the ring grooves on the rear cylinders and cause partial engine seizure, and eventual piston breakage

Click on any image for larger view
| | | |
| --- | --- | --- |
| | | |
| You Can easily see, that this Supercharger (the M90) is far too small for the V8 Engine as it only covers three off the 8 cylinders, all others get varied pressure and flow that cause very poor combustion. | The Air flow is not good at all, as and the Air filter is mounted in the corner of the engine bay is not only lacking an intercooler, it is picking up hot air from the exhaust manifolds too, the rooting of the system is also very poor | As you can see the poor fuel distribution is causing the cylinders to run progressively weaker towards the back of the engine, Also you will notice the excessive un-burnt fuel sprayed from the extra injector is causing a high carbon build on the pistons after only a few thousand miles. |
---
These are only a few off the problems with Supercharging this engine, unfortunately we are not able to show how the lack of ECU chipping will cause the demise of the engine and how it eventually goes into default mode after trying so hard to sort out what's going wrong, however I will have further written advice on this matter soon



---
4.8, 4.9 & 5.2 Long Engine Prices & Details

Engine Capacity
Price (Pounds)
Engine specification and details.
4.6 Options.

4.6 Short Engine



4.6 Long Engine (Std)


Following priced as full engine
4.6 Stage 1
4.6 Stage 3


For all engine options please contact us to discuss options and prices.


Upgrades and additional components may be required to complete your full or long engine requirements.

As Std the 4.6 comes balanced as per the factory specification, and is suitable for most, "Non Race" applications.





5.2 Options.

5.2 Short Engine

5.2 Full Engine (Includes). "Ultimate big valve Heads"



For all engine options please contact us to discuss options and prices.


The 5.2 is the Ultimate in Rover V8 Engine design Spec., with Cross bolting, dynamic balancing, heat treating, Ultimate big valve heads, race pistons and rods, and a one off Crank ground from Billet, This engine also includes T-Top (top-hat) Liners, thus offering the ultimate in race reliability whilst achieving the maximum in Engine capacity



---

All Prices and details are subject to change without prior notice,
Although all the engine above 4.6 could run on Carburetion, we would always advise on the use of existing Fuel injection. The following advice is for you information and covers both "Hot Wire" and latest Gems Efi Systems.
The Centre picture, shows the balanced 4.9 Crank, with Arrow Rods on a 4.9 cross-Bolted Engine

5.2 with Race Spec. Pistons
and head stud kit (optional)



Blueprinted work (optional) includes
stress relieving and Casting
'Flash' removal

---
Customer Comment

Thought you would enjoy the positive feedback from the owner.
5.2 V8 conversion to USA spec. D90, By our USA representatives ECR.

Forwarded By Mike Smith "ECR"> >The engine is terrific, and the ride home was a blast. I have 650 miles >since I picked it up on Friday, and have changed the oil once. Thanks so >much for providing me with the most powerful D-90 in North America



---
All Efi engines would need a minimum of ECU re-chipping.


The Hot Wire type injection (14CUX).Would require the installation of our Tornado ECU chip 395.00 and in most cases can be fitted yourself
The Gems type requires 2 ECU chips, as fuel and ignition are both re-mapped 695.00 and although they could be fitted yourself. it is advisable to et us do it for you by sending in your ECU, thus allowing us to remove the speed cut out and make other useful adjustments.
For all engine's above 4.6. extra modifications would be needed to the Injection (see below). And all injection parts are exchange in all cases otherwise a surcharge will apply.
| | |
| --- | --- |
| · | Large throttle Body 250.00 (increases the Air flow volume into the engine) |
| · | Ported trumpet base 250.00 (improved air flow through the intake manifold and into the engine) and is Port matched to suit stage 3 heads) |
| · | Larger 45mm & Shortened Trumpets, 250.00 (all 8 are enlarged, reshaped, & shortened then gas flowed to trumpet base (intake). |
---
Specialist
modifications

Carbon Fibre,

For engine wishing to break through the 360bhp barrier, we can now produce 48mm Carbon Fibre trumpets and carbon Fibre Plenum, this also allows the use of much larger throttle body's for the most serious Race use. You could expect to pay about 1000.00 for all three parts as listed above.

Click on any image for larger view

TVR 500 Griff Engine rebuilt
to Rpi 5.2 with Carbon Fibre Plenum. A True 360 BHP



From left to right
· 48mm Carbon Fibre trumpets
on ported intake
· 45 mm Trumpets on ported
intake
· Longer and smaller stock
intake and trumpets

Carbon Fibre plenum
showing extra large throttle
body, another race winner.


---
Dyno Graphand figures ( 5.2 RPi )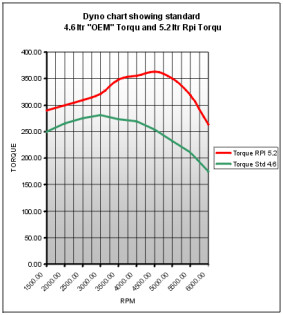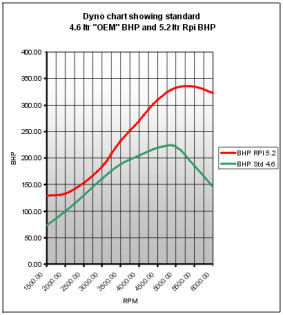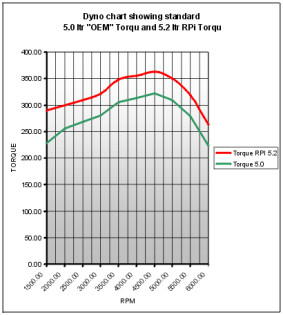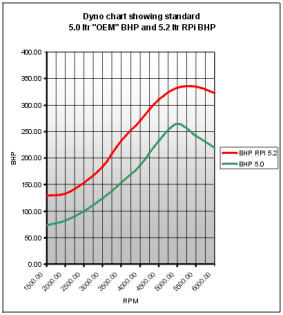 Click on any graph for larger view
| | | | | |
| --- | --- | --- | --- | --- |
| RPM | BHP 5.2 | TORQUE 5.2 | BHP STD 4.6 | TQ STD 4.6 |
| 1500.00 | 109.00 | 267.70 | 73.00 | 250.00 |
| 2000.00 | 118.70 | 272.20 | 100.00 | 265.00 |
| 2500.00 | 152.90 | 308.90 | 130.00 | 275.00 |
| 3000.00 | 183.10 | 320.50 | 161.00 | 281.00 |
| 3500.00 | 231.90 | 348.00 | 188.00 | 273.00 |
| 4000.00 | 270.60 | 355.20 | 205.00 | 269.00 |
| 4500.00 | 310.70 | 362.60 | 220.00 | 254.00 |
| 5000.00 | 333.10 | 349.90 | 221.00 | 232.00 |
| 5500.00 | 334.30 | 319.20 | 185.00 | 211.00 |
| 6000.00 | 323.40 | 283.10 | 145.00 | 175.00 |
Power (Bhp / Nm) other conversion's
http://microimg.com/science/power_equiv.html
Are the following improvements, being offered to you on your reconditioned engine quote?, its worth considering the High standards of all RPi engines and of course our long standing reputation for excellence.
---
links to other component pages
[ Back to: V8 engine and component information and pricing ] [ Carburation & fuel Injection ] [ Electrical ]
[ Transmission 2wd & 4wd ][ Suspension, Handling,Tyres, Wheels & Brakes ] [ Stainless & Mildsteel Exhaust systems ]

---
Prices do not include local EU.Tax.(VAT).
Prices & stock are subject to change without notice. Information and advice, as always, is free.
---
---

---

© Copyright RPi Engineering 1999. contact: using our new form
Wayside Garage, Holt Road, Horsford, Norwich, Norfolk, NR10 3EE, United Kingdom
Tel +44 (0)1603 891209 Fax +44 (0)1603 890330
Site design by astutech