4.0 & 4.6 Litre new engines

Great news for our USA Customers.
It's official, no problem with Smog Test even In California & with 100 plus engines per year to the USA alone we can guarantee you will have no emissions issues in any state.

Engine FAQ. Pages 'Click Here'


---
4.0 & 4.6 Short Engines


Brand New 4.0 & 4.6 V8 short engine
2007 built, Cross-bolted short engines include block, crank, rods, pistons, rings timing gear & camshaft (fully assembled).

All new short engines are the latest 4.0 or 4.6 Cross bolted block with stronger castings, bigger journal crankshaft, fully enclosed main bearing caps, stronger rods and rod Stud fixings, and are fully compatible for replacing 3.5, 3.9 & 4.2 V8's as well as the newer Range Rover and Morgan engines of the same capacity

(Shown is the short)



4.0 & 4.6 Long Engine


Brand New 4.0 & 4.6 V8
2007 built, Cross-bolted long engines include block, crank, rods, pistons, rings timing gear & camshaft, heads and rocker assemblies(fully assembled)

All new long engines are the latest 4.0 or 4.6 Cross bolted block with stronger castings, bigger journal crankshaft, fully enclosed main bearing caps, stronger rods and rod Stud fixings, and are fully compatible for replacing 3.5, 3.9 & 4.2 V8's as well as the newer Range Rover and Morgan engines of the same capacity

ancillaries as shown are not included in price







---
---

To price this engine, it's best to check out our relevant FAQ page 'Click Here'

Now shown fully dressed and with Weber, Mallory & pulleys etc

This Brand New 4.6 engine is completely set up with all you see here, Mallory Ignition, Weber 500 Carb System, Starter, Alternator, Pulleys etc,
Stage 1, Stage 3 and ultimate spec. also available.



It is sure to look good under your Bonnet


We Pride Ourselves on not only Powerful, Efficient & Dependable V8s, but good looking ones too!
---
4.6 Turnkey "Serpentine" Engine

Full 4.6 Engine, Fuel injected, & with Serpentine Front end & everything.

These engines come 99 percent complete and are brand new! Starter, wiring,alternator, Serpentine endless pulley belt system, fuel injection, clutch, flywheel, rocker covers, breathers, fillers, timing cover etc. etc. (as this engine is available for many car types / variants, some smaller components that may vary from car types can be included as a fitting Kit, and may add to the price)


Then this would be your perfect option, Specification. New 4.6, fully assembled fully complete turnkey engine, This brand new 4.6 full engine also includes complete electronic ignition, full 'Hot wire Fuel Injection system' with new ECU and airmass meter, including all wiring, Serpentine endless pulley belt system, new alternator, starter and all engine pulleys, brackets and mounts, new flywheel and clutch. Amazing value from

£POA

At this standard, it's already 'A Force' to be reckoned with!

4.6, Plug and Play, from only œPOA


---
Additional Power / efficiency options - available for all long or Turnkey Engines

Stage 1 As above but with Stage 1 Heads, Re-chipped 'Optimax.' ECU, Piper RP4 Camshaft, Piper Hi Rev. Lifters and Duplex Vernier Timing Set £POA A Cut above the rest.
Stage 3 As above with Stage 3 unleaded Heads, Piper 285 Cam added to the specification. Plus our acclaimed Tornado ECU Chip £POA Power and Sheer indulgence.
Stage 3 (ultimate) As Above with Ultimate Big Valve Heads, Piper 300 Cam, Ported intake, Big Throttle body plenum, shorted big bore Polished Trumpets. 4.6 Air mass meter, plus our acclaimed Tornado plus ECU Chip. £POA It's Pricey, but it's the top of the Tree.
---
---
Dyno Graph and figures ( Stage 3 4.6 EFi )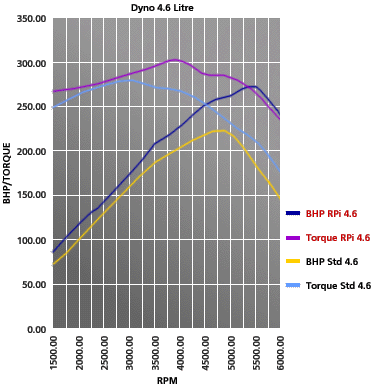 ---

Torque Its What our V8s drive on. Just see how much is available, not only all the way from 1500rpm and below, but all the way though the rev range (no less than 267 ft/lb from 1500 though 5000rpm)

All this and still peaking at over 302 ft/lb


| | | | | |
| --- | --- | --- | --- | --- |
| RPM | BHP | TORQUE | BHP STD | TQ STD |
| 1500.00 | 86.50 | 267.70 | 73.00 | 250.00 |
| 2000.00 | 118.70 | 272.20 | 100.00 | 265.00 |
| 2500.00 | 142.60 | 278.50 | 130.00 | 275.00 |
| 3000.00 | 173.70 | 286.50 | 161.00 | 281.00 |
| 3500.00 | 206.90 | 295.50 | 188.00 | 273.00 |
| 4000.00 | 228.20 | 302.60 | 205.00 | 269.00 |
| 4500.00 | 253.20 | 286.50 | 220.00 | 254.00 |
| 5000.00 | 264.00 | 283.90 | 221.00 | 232.00 |
| 5500.00 | 272.00 | 266.80 | 185.00 | 211.00 |
| 6000.00 | 240.10 | 234.60 | 145.00 | 175.00 |
Power (Bhp / Nm) & other conversions
http://microimg.com/science/power_equiv.html

4.6 Engine Block-variations



For all 4.0 & 4.6 upgrades to pre '96 Vehicles, the following information has no relevance, however for later Gems and Thor type engines it is important to know what one you have, as the difference involves the ignition timing pick-up device fitted into the block
(they can, if needed, be swapped between block types)


| | |
| --- | --- |
| | |
| The arrow points to the ignition pick up device, There are 2 Types, this one & a flat type one. | The arrow points to the Knock sensor. This is only required in the block post '95. |
---
Customer feedback ( 4.6 V8.)


Hi Chris, I'm Bart Callens from Tunisia. I must say the 4.6 you delivered to me summer for my Defender 90 is great. I don't regret I took the 4.6 instead of the 3.9. in my Defender 90 4.6 EFI (with tornado chip) ?
Greetings, Bart Callens Tunisia


---
Racing 4.6 Range Rover in Barbados
Hi Chris, just a short note from down here in the land of eternal sunshine and coconuts with rum in them. My 4.6 that you built for me two years ago is still going strong. By the way, I am wheeling a fully rebuilt 1972 Range Rover and it goes like a bat out of the tropics.
Thanks
Marc Ward. Barbados


---
Hi Chris, Some months ago, I had the good fortune to let your guys have a 4.6 bottom end to build up for me. Piper cam, new timing chain, mains, etc. with stage 1 heads and a weber carb.
Well it was installed into my Landrover lightweight hybrid
Before, I was as happy as Larry, whoever he may be, NOW, I'm even happier. The down side of course, is the fuel consumption has taken a turn for the worse. I must stop using the performance quite so much!. The bottom line is, thanks for the motor, your guys did me proud! The local GTi brigade are less than happy with the 'old' Landrover that leaves them at the lights though.
Thanks again, Alan Hodgson. U.K.


---
I installed the new engine about 2.5 weeks ago. The difference between the 4.2 and 4.6 is like night and day, granted the 4.2 was pretty tired and neglected by the previous owner.
The engine has a very smooth idle yet the torque band is much broader thanks to the RPi/Piper cam. Off-line acceleration is fantastic and it feels like the engine will continue to pull until it runs out of road. I haven't done a 0 to 60 test, but it is on my list. The Headman headers have not been installed as of yet, I needed to make sure everything was good to go.
Even with all the performance upgrades, the 4.6 passed our smog test with flying colors. We thought it might run a little too lean due to the stock computer, however, according to the high RPM part of the smog test the CO and HC are right on the mark though I am still thinking about the chip upgrade. A quick rundown of the items I purchased from RPi is as follows: 4.6 short block Performance cam and timing kit, Head rebuild kit with Stage 3 valves, used rocker assembly, one set of valve keepers, Headers, not installed as of yet, and Gaskets. Items completed out here: All new valve seats installed with 3 angle grind Distributor re-curved Intake trumpets shortened and polished High performance 8mm ignition cables Let me know if this is an option.
Sincere regards, David Golumbic USA


---
Chris, The 4.6 Stage III we put into the 1995 NAS Defender 90 Station Wagon now has plenty of break-in miles on it, and we took it to the track today. Stock 3.9 in this 90 ran 12.5 seconds 0-60 The 4.6 ran a best time of 7.78 seconds 0-60 this morning! Wow!
Owner of the D90 with the 4.6 called today to say how much he loved the truck, Said he towed his 26' boat home in 5th gear at about 85 mph, and could never tow the boat over 4th gear before. We have decided to keep ECR on the upper end of the RPi scale, so we will only be working with 4.6s and other performance mods, and some 3.9s. and will continue to do high end engines with you for a long time to come I think.
Mike. ECR Main USA.


---
Hi Chris, the engine I bought from you is great (4.6, stage 3). My car is running like compressed air. In a few days I will send you two photos of engine and car (MG). Thank you. Regards
Juergen. Germany


---
Hope all is well. We had our first nice spring days yesterday and today. I took 4.6 Moggie (Morgan) to the airfield and winched up my paraglider for the first flight of the year. Fantastic thermal conditions so I climbed rapidly to over 6000 ft and went away with the winds. Landed far away from home near a petrol station. Got a hike with two nice girls back to the field. Invited the nicest to a racy/tourqy tour in Moggie and it ended up with a successful date thanks to the enormous RPi 4.6 power ... (even all other Mog-friends are impressed). The engine performs perfectly. The oil now stays clean as syrup with no consumption and I feel the engine has started to loose up. Lovely!
Ulf Bergers (Sweden)
See new Customer Comments section, for many many more
---
links to other component pages
Back to: V8 engine and component information and pricing
[ Carburation & fuel Injection ] [ Electrical ]
[ Transmission 2wd & 4wd ][ Suspension, Handling,Tyres, Wheels & Brakes ] [ Stainless & Mildsteel Exhaust systems ]


---
Prices do not include local EU.Tax.(VAT).
Prices & stock are subject to change without notice. Information and advice, as always, is free.
---
---

---

© Copyright RPi Engineering 1999. e-mail: Copyright RPi Engineering 1999. contact: using our new form
Wayside Garage, Holt Road, Horsford, Norwich, Norfolk, NR10 3EE, United Kingdom
Tel +44 (0)1603 891209 Fax +44 (0)1603 890330

Site design by astutech