---
LPG Customer Comments. Section
---
Click above for the section you want.
---
---

Ignition Section - A&R Amp & Magnecor leads
---
This has to be the best 'agenda' opening comment by far

That A&R unit sure is frightening! I took the 'king lead' off the distributor to do some compression tests and the spark jumped about 6 inches - now that's what I call a good HT spark

Ed.
---

Ignition Amp ( A&R)
Chris,
Fitted the A&R unit. We've seen a 20 to 50% improvement in MPG, depending on the type of driving. This investment will pay for itself in less than 10 weeks - what a bargain! It even improved performance when we had to run on petrol for a while. All this and I haven't uprated the plug leads or regapped the plugs (from that urban myth about LPG being better with a smaller plug gap). Ed
Ed Fish.
---

Chris,

I know you're a busy man so I will keep this short. I'm the bloke who phoned you from Pembroke Castle ramparts in August asking for advice about my non-running V8 Disco.

Anyway,

I had overhauled the engine prior to travelling to south Wales, fitting a 3.9 cam, new rings and bearings, plus a set of magnacor leads and power amp. What a difference, I am now running at about 20 degrees btdc at idle on LPG and my fuel economy is 17mpg against 13mpg prior to overhaul. In fact, it is now more fuel efficent when towing my comp safari racer, than it was unladen before I did the overhaul. It is also smoother and faster, plus it seems to use less petrol on the few occasions I run it on the expensive stuff!

Thanks again for your advice. Andy Springthorpe Staffs UK


---

Hi Chris
Thanks for finding the time on Saturday morning to fit the A&R unit, Magnacor leads and servicing the distributor. the improvement to performance and smooth running of my V8 is amazing and the idling is now as it should be. Kind regards, Richard Hiles (Reading)
P.S. Thanks for the coffee and the friendliness of all your staff.


---
Ignition Amp (A&R)
I just had fitted your advance unit for the gas, I rang earlier last week because I didn't understand parts of the instructions and you said any ideas to make the instructions better would be welcomed. 1. where the 2 wires go into the dizzy there is no pos or neg on left or right hole it took a while to work it out, showing which was which would be a big help. left is pos as you know. My friend John fitted it and it is a definate improvement in power I have the RP4 cam, duplex timing chain & new tappets and it goes very well.
I would like to say thanks for your help as it has made a world of difference the power & smoothness are exellent. Alan Lambert
---

Never under-estimate the quality of Std, O/E, or High street spec. ignition leads.

A typical e-mail quote.
Thank you for helping me sort out my misfire problem with the amplifier.You may recall when we spoke that I said that the misfire was when on LPG when the engine was cold. You recommended fitting Magnacore leads as well, but as I had new Lucas leads fitted I said that I would try them out with the amplifier first. The result is the engine is sweet as a nut when cold and a definite improvement in power and fuel consumption.
I am very pleased with it and will be recommending other gas users I speak to. Yours sincerely Peter Munday
---

Hi Chris,
I bought an A&R unit of you a while back to fit to a '93 RR. Unfortunately the original unit died due to some electrical problem. I have fitted the new unit and all seems OK..
As an aside:
I like the new additions to the A&R unit ie the shielded cable to the dizzy and all the necessary connectors provided...makes it a lot easier to do a tidy job. Performance and fuel economy both seem to be increased so I would consider myself
impressed
with the unit!!!
Thanks for all your help
'Jon Quilliam'
---

Dear Chris, Sorry I haven't written sooner to thank you and your team for all the hard work you did on my car. By the time I get back from work tonight I will have done 1000 miles since I left Horsford so will change the oil a.s.a.p. It is still running as sweetly as when I left you.

I took the car to my gas installer

He was very interested to see your Advance/Retard amp in the flesh as he'd been reading about them on your website. Also he thought the engine sounded top notch and took a test drive after resetting the gas for me and was full of compliments for the work done and the feel of the car.

It goes without saying that we won't hesitate to contact you again for any specialist work on the car.

Once again, thanks for doing such a good job

Very best wishes Sebastian (Musician from Yorkshire)

Hi Chris Just a quick note to let you know that my Rover is running well on LPG following the conversion that we did a fortnight ago. There is a small but noticeable loss of very low down power (pulling away from lights, junctions etc) on gas. Idle at cold is also a touch rough but fine when fully warmed up. This may be due to the fact that we didn't upgrade the ignition side of things (coil, amp, leads, plugs etc.) or may be down to it needing a tune up after things have bedded in. I have driven about 500 on gas. Can you let me know your thoughts and give me a price on
upgrading the ignition side of things?
(Priority) Magnacor leads or A&R. Ignition Amp?

The answer is simple, It's both! And both will gain more of what you wanted.
---

Hi Chris,just wanted to drop you a line to let you know I've fitted the ignition advance module and
the improvement is amazing
it seems to go better on LPG than petrol now. I'm considering the next stages of the modifications, I am thinking long term of a 4.6 motor, but for now would appreciate some input as to what other thing I can do to improve the performance and economy of the engine. I was considering an ECU upgrade and different exhaust/manifolds though I'm a bit limited with the CATs. Any thoughts would be a great help.
Thanks and Kind Regards Mark Hodge.
---

Dear Chris,

I have a 1985 Land Rover 110 with a 3.5 V8 running on twin Solex Carbs. The car also has a Bedini LPG conversion.

I have recently bought from you some Magnecor plug leads, new spark plugs and an A & R Ignition Amp. The car already had a Mallory dual point distributor when I bought it. I am writing to say that the new equipment supplied by you has transformed the car - it runs superbly and has very un-Land Rover like performance (despite the very Land Rover like fuel consumption!)!

Yours sincerely
M. Clough
---
Dear RPi,
With reference to our recent conversation concerning my suspected A+R power amp. Many thanks for your
lightening response to my problem
. I received the replacement amp the following morning and fitted it along with a new Lucas coil, as you advised. The intermittent mis-fire appears to have gone, hopefully for good, as one more LPG back-fire would have pushed my nervous system in to "Valium mode". We are also expecting a
50% saving in washing powder
uasge over the few weeks.
Thanks for that too.
Sincerely,
James B.
---

RPi unique LPG & Petrol Tanks

That's the next job after the engine. I have been up to see Chris and an 80 litre tank will fit long ways in the boot next to the spare wheel, leaving boot space and allowing us to still fold down the larger 'half' of the rear seats for any larger loads.

Once it's all (engine and gas) done, hopefully it'll be fine for a few years. As I do around 1000 miles a week the gas conversion will soon pay for itself (at least before the next budget!)

Chris is very helpful and not all that pushy about selling stuff - he is happy (it seems) to offer lots of good advice and he really seems to know V8s. I'd recommend anyone to have a ride out to wildest Norfolk. It's about 90 miles from here, but a worthwhile trip!

Simon Atkinson - http://www.raunds.demon.co.uk/
---
80 Ltr LPG Elipsoid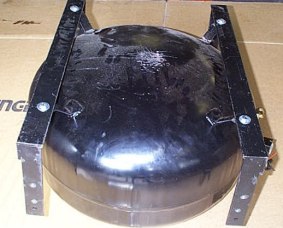 Our unique 80 Litre terroidal Tank fits under the car and replaces the Petrol tank.
---

Why can't the Italians make the tank gauges releliable?

Dear Chris
Arrived home after driving a
completely different Range Rover
to the one I left a week ago! The difference is amazing, it is so much more responsive. I honestly can't tell any difference between the two [fuels], if anything the
gas is better.
However I have a small problem with the tank level indicator, after 165 miles I still have 4 lights on the switchover panel and the tank gauge is still showing approx. 75 litres. Either the tank sender unit is not working or I'm doing about 165 miles to the litre!
I noticed a metallic clank a couple of times coming from the tank, is this normal or has the sender unit fallen apart? Can I change the sender or is it permanently inside the tank? There's no urgency on this, it's just I would like everything working properly. If I can do anything about it will you advise and I'll fit the relevant parts, or shall I wait and pay you a visit next time I come over to Caister?
Thanks again for a superb job I'll spread the RPi gospel around here! COLIN LAW
---

POSTED ON RANGIE.COM NEWSGROUP

Hi, Just back from Norwich having spent 2 days fitting my LPG conversion to my LSE under the watchfull eye(s) of Chris Crane and his team at RPi.
My initial impressions are favourable, the engine is
much smoother at idle
, doesn't seem to lose any noticable power when running on gas, and the switchover between gas and petrol is seemless. It's too early yet to comment on economy. Fitting the kit was straight forward though there is quite a bit of work to do. My job was a little more complicated due to the fact I was
removing the OE fuel tank, fitting the gas tank in it's place
and then fitting one of RPI's inner wing petrol tanks. This was my favoured solution because I didn't want to lose boot space or the ability to run on petrol. This solution
gives around 64 litres of gas
and 7.5 gallons of petrol (apologies for the unit change :-). The equipment used was Tartarini and is a full closed-loop system with oxygen sensor. The fitting kit was very good with injector emulators (fools the OE ECU into thinking the injectors are still in circuit), ECU for the gas control (handles mixture, switchover etc.) and the other numerous parts.
I will be writing a full article on my conversion, if anyone wants a copy I'll make it available.
---
.

New shape Range Rover

Dear Chris,
Thank you once again for the time and effort you and your team put into making my car (a 4.6 HSE ) run properly once again.
Actually,
it runs even better than it ever did before
. The guy at Autogas in Bristol was very impressed and he told me that he would give you a call sometime so I hope that there will be even more business going your way.
To keep this short and simple, I have just one question, do the gaps on my spark plugs have to be reduced for Autogas, is that necessary? If so I will remember to do it every time they change the spark plugs.
Thank you once again. Art

No, as your system is now correct, std plug gap or even wider plug gaps are possible without concern
.
More on LPG Conversion to the new shape Range Rover (Click)
& Other upgrades including re-chipping.
---

General Lpg comments.

3.5 EFi Conversion

Chris,
I've just finished setting up the LPG conversion supplied by you. Very straightforward and no problems at all. The engine fired up first time and switched over to gas no problem. As for the performance, you can tell the difference when on gas, not because you lose power, but because the engine is smooth and flexible with none of the slow running problems you can get on petrol. All through the rev range the engine pulls like a steam train and if anything I think the performance is better on gas than petrol.
The flap opener and A&R amp are definately a 'must-have'
for anyone considering this conversion.
Thanks again. Allan Ross
---
M967 (black Discovery V8i)
You may remember that we had our Discovery converted to LPG (my wife comes up to Norfolk to visit the workshops in Aylsham). We had an Ellipsoid Tank fitted in October 2000
and are extremely happy
with the performance, convenience and price. We intend driving to Italy this August and are interested in extending/adding other LPG tanks (2 torpedo?). Could you please contact me with possibility and price at your earliest convenience. I still do not wish to lose the boot space when considering adding more tank space.
Regards Walter
---

Dear Chris
and all at RPi, Thanks for all your help and excellent advice regarding the LPG kit I had from you in March. It is pleasing to know that a company such as yourselves will give so much time talking to people like me even though you are extremely busy. I will definately be back for more, such as a 4.6 engine.
thanks again Andy & Kim (white 1991 3.5 disco.)
---

Hi Chris & Lisa, Geoff and all
Firstly, may I say a very big thank you for everyone's efforts in getting my LSE dual fuelled. The experience, though tiring, was a very worthwhile one. I fully understand MY system fitted to MY car by MYself ! It
really does make the difference
knowing the ins and outs of it all. There has been a lot of interest by local Rangie owners and I know for sure of two of them that will be contacting you shortly.
The return journey home was uneventful, the engine
running as smooth as ever
, I changed between petrol and gas several times (new button to play with) and it never missed a beat.
I do hope your business continues to prosper. With the service, product and your magical know-how you really do deserve to be hugely succesful.
Kind Regards John Bridgett
---

COMMENTS ABOUT RPi Very friendly people BUT very busy. They will certainly do their best to accomodate you, but you must realise they are running a business. I was there for 2 days and I would say around 25% of that time I was waiting for information or guidance. It wasn't as bad as it sounds, sort of 10 mins here and there etc. The engineers
are very willing and able and the quality of workmanship and information second to none
. I really appreciated the help and assistance that I was given and would have no hesitation in recommending them to anyone considering going LPG. RPi are experts in the field of V8 engines (Rover in particular) and LPG.
This is a completely unbiased mini review of RPi and their products. I have no connection with RPi other than that of a very satisfied customer.
Kind Regards John.
---

Hi Chris,
Just a quick thanks for the work done on my Disco yesterday. Great driving home and, yes,
better economy
. Twenty more miles out of the filling than I've had in six months.
If that keeps up (which I'm sure it will) then I'm a happy bunny. You were right about the kick-down under LPG - it's as good as under petrol now.
Thanks again to Steve: I appreciated his skill and attitude.
A happy and blessed Christmas to you and yours.
Regards Robin Davies Reading
---

Chris. I have replied many times
to questions on this re LPG conversions. For those of you who don't remember me brief details are :- Range Rover 4.2, Tartarini LPG Conversion fitted by myself under the watchfull eyes of RPi engineering - the V8 / LPG Specialists at Norwich.
A few people have been asking in the past about RPi and I would like to share the following information. 3 months after I converted my Rangie I started to smell gas (no I hadn't been eating beans). Try as I might I could not locate the leak. Finally after another 6 weeks I traced the leak to the vapouriser / regulator unit. I spoke to RPi who told me they were having dificulties with Tartarini vaporisers and had since stopped supplying them due to unreliability.
They also put me in touch with the importers. I offered to drive my vehicle to them but they said they would send the relevant parts to me. The problem was caused by, in their words 'impurities in the UK LPG'. The new diaphram arrived and was fitted - brilliant, back to normal. 2 weeks later, same again, I was totally p**sed off now, back on the phone to RPi, ready for an argument, guns blazing.
No need, Chris Crane (the proprieter) suggested that I upgrade to the much better tandem OMVL vapouriser and a bigger mixer and all I paid was a minimal amount to cover the difference and postage.
What a difference
! 3 mpg better, 0 to 60 reduced by 0.8 seconds and it is now so smooth.
Just shows it really is
NOT worth dealing with cowboys
, you may pay a little more to start with, but backup like this means an awful lot more.
Chris if you're reading this - Many thanks Regards - John Bridgett
---
---
Click Here, to visit our Main LPG Pages.
Quote of the year! Some people like to listen to music while they work........Me? Now I've been on your site, I just work with the sound of your V8 in the background..........D D.
---