FAQs LPG Tanks, information page. FAQs
links to other FAQ pages
[ V8 Engine Fitting Information ] [ Rover 3.5, 3.9, 4.2 to 4.6 Conversion ] [ LPG Conversion details ] [ Fuel Injection Section ]
[ Weber 500 & SU Carbs ] [ Mallory Ignition Systems ] [ General Engine Problems ] [ General Information ]



But before you start.


Firstly consider what you have already and its suitability to LPG conversion

Added economy & efficiency advantages are always & certainly attainable Using RPi LPG upgrades, such as Optimax ECU re-programming (Efi models) and RP4 cam upgrade. Plus Mallory and Electronic ignition upgrades. After all economy comes from both cheaper fuel and increased economy, or at least curing the efficiency drainage of what little efficiency your engine may have now, especially if its in "High Mileage" & less than perfect shape. "See where to look to find out more".

The following possible V8. LPG Conversion plus engine upgrades would normally Yield minimum 15 - 30% Minimum efficiency and power/torque over a Std factory new or existing engine and vastly more from a less than perfect used engine, (you can use info on our "General info page above" to assess your engines condition, & available improvements.


---
,
4 Hole LPG Tanks at trade Price's

As World leaders in the fitment of LPG installation for all V8 model Range Rovers. we have just finished perfecting and importing our own LPG 4 hole tanks, All designed to offer Max. Lpg space for all the Land Rover Range Rover Models this includes our own unique 120litre Cylinder Tank (seen below) & 80 litre ellipsoid tank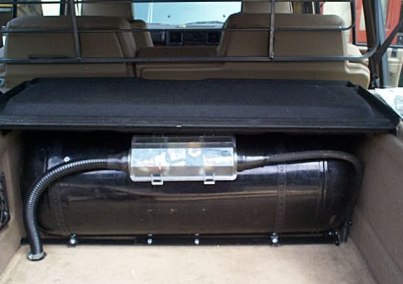 The new 4 Hole 120 (shown) & 100 litre Litre Tank is just two of a new range of Rpi Dedicated LPG Tanks for Range Rover and Land Rover Models Trade supplies (quantity LPG tank orders available œPOA), Per 4 hole tank)). We also supply fittings frames and tank straps etc.
---
| | |
| --- | --- |
| | |
| Our Unique 80 Litre 4 hole Ellipsoid Tank, Shown with Chassis mounting brackets | The 80 Litre North, / South tank is designed for maximum LPG capacity without losing half the load space, "Or dog room" :-)) |

New Single 80 Litre Ellipsoid. Tank to replace Std Petrol tank, (see above & below) also seen with Stainless Steel inner wing Petrol tank, ( accepts std fuel pump and tank level gauge ). Full kit With 80 Litre 4 hole ellipsoid tank and 8 Gallon Stainless Steel petrol tank. Etc. fitted œPOA plus upgrade option to offer up to 140 litre total capacity with no lost load space for Discovery's Range Rovers and some Land Rovers. if combined with twin 30 or 37 liter chassis tanks offering a massive distance potential. plus 8 gallons of Petrol too.

---
Tank Size/description
Tank Dimensions
Supply Price
80 Litre
375x835mm
œPOA
100 Litre
375x1025mm
œPOA
100 Litre
400x905mm
œPOA
120 Litre
400x1075mm
œPOA
Bracket & strap set for above
(tank fitting kit)
œPOA
80 Litre Ellipsoid
380x600mm (other sizes available (POA.)
œPOA
Tank Frame for Ellipsoid
(tank mounting kit)
œPOA
Spacer blocks (pair)
(required if your model has rear anti roll bar.
œPOA

Self fit LPG tanks (mail order ) & Trade enquiries welcome
Rpi's Own tanks & tank frame options & Prices
(We have large stocks available for trade enquires, and all our designed to Maximize space and convenience of all Range Rover & Land Rover models

---
---
---
---
---



fitted with Duel; tanks, This 4.6 HSE can travel 400miles on its LPG load and still has 300 miles on offer from its normal Petrol Tank, however filling the petrol tank becomes a distinct rarity when you have been use to filling up for half price with LPG.


A 90 Litre cylinder and 70 Litre Ellipsoid Tank. fitted can occupy little load space but give very long range capability.

This 4.6 HSE will be far cheaper to run than any Diesel and there is no pollution issue. You would be crazy to choose anything else.

When you fill up with petrol or Diesel , you are filling the Chancellors deep pockets to the tune of 80% or more, don't you think they take enough tax already, why give them more.



---

HSE Tank 160 Litre available soon with no loss of load space.

it is now possible to fit our 80 Litre (4 Hole) Toroidal tank without any loss of boot-space. and although it takes up the spare wheel hole as per the 70 Litre Tank shown above, modern compounds such as revolution 2000 will ensure you don't need to carry a spare.


Some more pictures of this unique 80 Litre tank & details on the additional 80 Litre we are currently developing for the underneath (Soon).






This new & unique mounting and Frame (cassette system) By design, allows for the use of our exclusive 4, Hole Ellipsoid Tank Making full use of the limited space available



.

---



A Close up of the 4 hole Tank's Leak proof shroud, and fittings, complete with safety "cut off solenoid" Note the larger filling pipe for quicker fill ups.



The 4 hole Tanks, don't settle for less.


Land Land Rover tank options can take up very little room,. Underneath options also available on many models. for later 90's and 110's




---



Two more LPG conversion Kits arrive for fitting., A twin 30 Litre Discovery Kit and a 100 Litre Range Rover.


You can see the underneath Tanks on this Discovery are barely visible and are higher than the rear axle to allow optimum retained ground clearance.




---





Most Saloon cars will have to give up some boot space, This may not be too off-putting when you consider the small loss in boot space will give the equivalent economy on most 2.0 Litre saloons Off 70 - 80 mpg. by price.


We have a wide range of upright and flat laying toroidal or ellipsoid Tanks, these can be used alone or added to other tank option further increasing the range of your LPG.

Due to many Problems these tanks are no longer available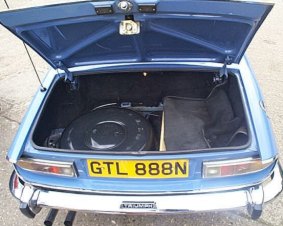 This V8 Stag has given up very little space by using our ellipsoid type tank in the spare wheel well.


---
Here you can see, The 80 litre Ellipsoid tank and extra 8 Gallon Stainless Steel Petrol tank Fitted to both Range Rover & Discovery Models V8's. With the tow bar fitted its almost invisible.

Self fit LPG tanks (mail order ) & Trade enquiries welcome



---



Fitting the unique 80 Ellipsoid Tank needs access from below and the special Tank frame we supply (as shown)

This ellipsoid tank fits Land Rover ( except 90) and series models, Range Rover Classic all ages and New shape ( fits internally) and all Discoveries Discovery.

The Stainless steel Replacement fuel tank. Range Rover, Land Rover And Discovery . Capacity approx 7 gallons.

( we have now updated these tanks to a level that surpasses the rest by far. (see below)


Rpi's unique Lpg tank & tank frame options

Large stocks available for trade enquires and all our designed to Maximize space and convenience of all Range Rover, Land Rover models


We now have a new ( exclusive) range Of our own produced Stainless petrol tanks
Featuring

Larger capacity (approx. 8 gallons) But Easier fit

Built completely of 3mm Stainless as apposed to 2mm
& an impressive 6mm in Pump location (top) area, means noise free running, and perfection of Fuel sealing ability

Being fully Tig welded there is also no residual swarf to jam up your expensive fuel pump thus ensuring not only a trouble free life but total reliability.

Picture soon

---

Do you have a supplier in my Country?



We actively ship our parts all over the World, over (50 Countries to date) Do not worry if no one is listed in your area as we can handle all shipping details for you. And even if you have trouble speaking English, our worldwide network of customers can normally help with any Translation For European Translations.


RPi Recommended Worldwide V8. Specialist's "Click"

With so many filling Station's coming on line. This list now has its Own page, Furthermore, if it gets any bigger (As it will ) The pages will soon be split in to Zones. Its not only the UK that is seeing huge rise in LPG outlets, but the rest of Europe and the World.

List of LPG Fuelling stations. update July 2000 "Click Here"
Scotland, Wales and N - Ireland "Click Here"




---
links to other FAQ pages
[ V8 Engine Fitting Information ] [ Rover 3.5, 3.9, 4.2 to 4.6 Conversion ] [ LPG Conversion details ] [ Fuel Injection Section ]
[ Weber 500 & SU Carbs ] [ Mallory Ignition Systems ] [ General Engine Problems ] [ General Information ]
---
Disclaimer
Prices do not include local EU.Tax.(VAT).
Prices & stock are subject to change without notice. Information and advice, as always, is free.
---
---

© Copyright RPi Engineering 1999.e-mail: Copyright RPi Engineering 1999. contact: using our new form
Wayside Garage, Holt Road, Horsford, Norwich, Norfolk, NR10 3EE, United Kingdom
Tel +44 (0)1603 891209 Fax +44 (0)1603 890330

Site design by astutech