---
Iceland,
'Its out of this World'.
Believe me, I have experienced it.
http://www.juventus.is/rover/




Planing a trip to Iceland?

I don't think I have to tell you about the beauty of our island. Iceland offers a wide variety of natural wonders, some parts because of volcanic activity and glaciers and also because of clean and unspoiled nature. But to get the most out of your trip to Iceland you should consider travelling with a superjeep and an experienced mountain guide.

Iceland is simply 'made' for travelling in superjeeps. Some of the most beautiful places are impossible to reach without them, both because of the seasons and the 'fabulous' Icelandic mountain tracks. On the following page you get to know what kind of trips I'm doing, where I try to bring out the main aspects and themes. There are a lot of pics here too and if you're interested in nice looking nature or just trucks on HUGE wheels this is for you.

mailto:Rúnar Ingi <rover@li.is>


---

For a truly 'out of this world' experience... its Up Up and Away!


Peter Kollar and Chris Johnson, Directors of Up, Up and Away, are passionate about ballooning. After more than 12 years experience and 30,000 satisfied passengers, their enthusiasm is still on the rise, just like their balloons over the Canterbury Plains.

Ballooning is encouraged as a group activity, able to break boundaries of age and nationality. Hands on experience in helping set up the balloon, leaves each traveller feeling as though they have really participated in creating their spectacular memories.

www.ballooning.co.nz
---


Make your 2004 visit to RPi Engineering especially memorable


The Norfolk Mead Hotel

One of the very fine places we can arrange for you to stay, in our charming home county of 'Norfolk'.
Perfect for that memorable stay-over visit to us, or exceptionally charming for a longer stop-over. So many of our overseas visitors have commented on the wonderful traditional surroundings, exquisite home-prepared food created by their award winning Chef and the exceptional welcome and attention received from their hosts, Don & Jill, the proprietors.
Both Don & Jill are motoring enthusiasts, owning a Classic V8 Cobra and Range Rover, so you are guaranteed they speak your. language too.

Situated on the Edge of the Norfolk Broads in 12 acres of gardens & grounds leading down to the gently flowing River Bure.
Would you like to discover more?
http://www.norfolkmead.co.uk/
No problem, You can visit them here.


---


The Norfolk Broads. with Barnes Brinkcraft.
Truly a unique experience

As a Native of Norfolk for 40 years I can truly say you will have not
seen the pure natural beauty that is Norfolk, and the unique range of bird & wildlife to be found in this unique and tranquil setting. That is, until you have experienced it for yourself.
I can assure you from personal experience, it is a holiday or short break of a lifetime, and it's on my back door step.





Barnes Brinkcraft is situated in Wroxham, the heart of Broadland. The boatyard is owned and personally run by the Thwaites family team. Over 35 years experience has enabled them to be able to offer you the perfect Norfolk holiday. Whether you are looking for a cruiser, or a house, they have something to suit everyone's taste and pocket. If you would like any further information then please contact them via the details supplied on their Contact Us page.

The Broads is the largest wetland in Britain and is specially protected, with the equivalent status of a national park. There are six rivers connecting forty broads, making over 200km of waterways in all, and just waiting to be explored.

Each Broad was once a medieval peat digging which was flooded to become a shallow lake after the peat was dug for fuel. Water, reeds, marshes and tangled woodlands make up Broadland's landscape - a haven for birds and wildlife. Broadland meets the sea at Lowestoft and Great Yarmouth, two bustling seaside towns with first class beaches to be enjoyed. Places to visit include nature reserves, churches, windmills, craft centres, and numerous riverside villages, with pubs, shops and restaurants.

At the western end of the river Yare is the historic city of Norwich. With its 900-year-old Cathedral, Norman castle, museums, theatres, market place and shopping centre, Norwich is the capital of Broadland. Regattas and other boating events are part of life on the Broads. Ashore you will also find lots of local events, such as carnivals, and fetes to add to the fun. The area caters for all kinds of holiday activities such as cycling [cycles for hire], walking and fishing. The broads is a magical, mystical place to explore - take your time and enjoy it.


---


GUIDED, SELF-DRIVE & CHAUFFEURED SAFARI HOLIDAYS IN KENYA


www.gamedriverskenya.com





See this beautiful country from a different perspective with the ultimate Safari Company unique in Kenya. Game Drivers offers you the option to follow the itinerary of your choice on a self-drive, as well as on a chauffeured basis; with either option you will be accompanied by your guide, Nigel, in a support Land Rover.

Game Drivers will personally arrange a custom built self-drive or chauffeured Land Rover Safari for you. Travel at your own pace to beautiful, exclusive lodges and their own tented camp in Safari-prepared Land Rovers. Select one of their three recommended Safari itineraries, or alternatively choose your own combination of destinations tailored to your own requirements and budget. Whichever option or combination of options you choose, they combine their knowledge with your imagination to give you the perfect Safari.


---
The Most Powerful sport in the World 'Tractor Pulling'
http://www.powerpulling.co.uk/indexmain.htm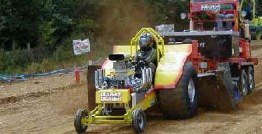 We have heard through the Grapevine that various tractors are having new hearts, there is even a rumour that a Meteor is lurking about? The Symphony is apparently having major modifications including a self-pumping throttle assembly. We also hear that there are going to be more blown Rovers about in 2001, and that there are big cubic inches coming down from the North. The Dealer will possibly have a German Heart as Ian and I have seen more of Germany, France and Belgium than Britain in the latter part of 2000. Ian is busy taking his next licence, I think he is thinking of flying to the events next year, well he said something about a JET anyway!
---
Tailor Made Riding Holidays in the Lake District
http://www.horseridingholidays.co.uk/


Relax

Horseridingholidays are situated in one of the quietest, most beautiful corners of the Lake District three miles away from the market town of Kendal. You will ride through areas which most people are not lucky enough to find, on ancient bridleways and single track lanes.

A family run business which caters for all riding abilities and all ages. If you like a friendly, informal, laid back atmosphere, beautiful, quality, happy horses, fantastic scenery and meeting lots of new friends - human and animal - Hipshow Farm Riding Stables is the perfect holiday destination for you.


---
Paradise in Thailand
Shanti Lodge - The best place to be In Thailand.
Click here for More Pics to see why



Believe me, if you want to stay at the friendliest upmarket, culture-seeking tourist and backpackers lodge in Bankok, this is the one for you. Close to the city centre, but far enough away to be out of the tourist trap regions.
The staff & management are a credit to their culture & perfect hosts, and are to be remembered in the fondest of ways, always.



Thailand, 'The Land of Smiles'

Shanti Lodge, 37 Sri Ayuthya Rd., Soi 16, Si Soa Te-Wet, Bkk Tel. (Thailand) 281-2497 or 628-7626.

I know because I have been there many many times.
Contact the Manager Yuan for booking details


---
---

Click on the image for a larger view



RPi V8 Power!
It can be delivered Almost Anywhere
Crossing the Zambeze Via Victoria Falls :-)) even?
Visit Our own 'Sales Pages'
You never know, you just may find what you are looking for!

---
---