Please consider these pages where created 10 years ago and are for Historic Information Purposes Only. For current stock, prices and information please visit our V8 Engine and Component listings in our eBay shop.

Consider for a while the Engine you require...

Where to start?

When considering your V8 engine, it is important to first establish what it is you need. The one thing that puts the Rover V8 in front is its very low weight due to the all aluminum design, and its very high power to weight ratio, especially when considering the amount of power that is produced from the V8 at relatively low rpm. So, if you are looking for a 4wd Engine or fast road race engine for your MG or Kit car, you can gain all the power you need without sacrifice to economy or driveability, for this reason you will find all the engine products on these pages steer well clear of 'Boy Racer' fire breathing specifications, indeed, almost all RPi engines would pass even the most stringent of emission controls as you can see from this V8 Smog test recently carried out in California on a 4.6 conversion supplied by us.



California Smog Test.

RPi Engines, even the 4.6 Litre, breeze through emissions tests in the USA. For the Full Picture Click Here



---
----- High torque ----- Fast Road ----- Track and Race -----


What to expect.

All RPi Engines can be expected to produce all available power between 600 and 5500 rpm or lower. This does not mean you have to sacrifice horsepower, as we can still top 350bhp on our bigger engines. It does mean, however, in 2wd form you could expect to pull 5th gear from 20mph all the way to double the speed limit, and with 4wds, 0-90 acceleration is transformed without the need to push into high rpms, with load pulling and overtaking effortless with just a gently squeeze of the right pedal. So, before you go out and buy that radical camshaft or biggest valve heads, just remember what it is you really need most of the time.

Our ideal spec would go something like this.

Capacity. Well the bigger the better for torque, but it's important to spread your budget for 'all' you will need, and for 'all' that you need to make it work best. So look at the whole picture (Engine Sparks and Fuel), and spend what you have allotted on the most appropriate capacity. with consideration of what you will be bolting onto it. Heads, Its important to upgrade to unleaded, not in respect of valve seat problems, but using our heads, you can run LPG, unleaded, and, with the later oil-impregnated guides and fully enclosed valve seats, 4-star and oil usage will be a thing of the past. Better still, upgrade Stage 1 are affordable and the most efficient for most fast road and high torque use, and if you really do need to exploit the upper regions of your engine's power, then Stage 3 would be our optimum choice on capacities under 4.6 litre.

Fuel: The Weber 500 or Injection are the best torque & efficiency providers, even economy takes some beating. But if your budget is stretched, you can always come back to fueling improvements later. It is best to get the internal bits (engine) perfect first as you don't want to be going back inside, but you may have to wait until your fuel and ignition system is upgraded if you want to gain the most from what you have done. Obviously, re-using existing fuel systems will only be as good as the condition they are in.

Sparks: Mallory ignition is a must as nothing will work well if the sparks are poor quality and at the wrong time, and like the fuel system, re-using what you have may be appropriate for the moment, but you would be amazed at how much a highly efficient ignition system will do to allow the otherwise locked-up power of a well-built V8 engine to escape. In some cases, customers are selling themselves short of 40bhp or so if the fuel and ignition system is old or badly set up.





Not forgetting the essential, considered issues of using Quality plug leads, they cost far less in the long run and, ignoring the need is so often the cause of a good engine set up not coming through. Most stock or even 'claimed' quality lead sets fail to last, and some even have problems when new. For us, Magnecor plug leads have to the best value and assured quality.




More Sparks If your engine already has one of the later type electronic ignitions, and its mechanical and vacuum advance systems are in perfect working order (many aren't, so please check), we offer a new ignition spark amp system that's sure to maximize your fuel and power returns. Check out this info on our Dual timing LPG version click here (don't forget to press your Browser Return button if you want to come back here).


V8 Ignition hand-built Power amps. (Dual Timing versions available for LPG).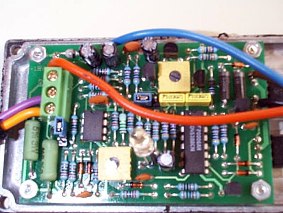 Small on the outside, Big on Power on the inside.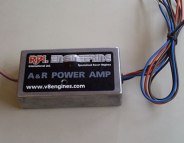 Installation is less than 30 mins. without any experience.


---


Camshafts pinpoint where your power arrives & peaks best, so if you choose one that peaks at 5500 rpm, get a 'Car and a Race track' so you can make the most of it, otherwise stick to high torque Cam heads etc. and get the best of both worlds, Whilst maximizing efficiency.
Heads, stage 1 are affordable and the most efficient for most fast road and high torque use.

A good rule of thumb for Camshaft choice is --
if your heads (either now or intended) are Std. or Stage 1, then go for High torque std, or RP4 cam, if your heads are Stage 1 or Stage 3, then choose RP4 or 285 Cam. Whatever you choose, it's never less, but more of what you can easily have. It's only the additional cost of upgrades such as this that's possibly a barrier.


---
Turnkey Engine options can be adjusted to your own specific requirements.

---
---
links to other component pages
[ Back to: V8 engine and component information and pricing ] [ Carburation & fuel Injection ] [ Electrical ]
[ Transmission 2wd & 4wd ] [ Suspension, Handling,Tyres, Wheels & Brakes ] [ Stainless & Mildsteel Exhaust systems ]

---
Prices do not include local EU.Tax.(VAT).
Prices & stock are subject to change without notice. Information and advice, as always, is free.
---
---
Disclaimer
Prices do not include local EU.Tax.(VAT).
Prices & stock are subject to change without notice. Information and advice, as always, is free.
---
---

© Copyright RPi Engineering 1999.e-mail: Copyright RPi Engineering 1999. contact: using our new form
Wayside Garage, Holt Road, Horsford, Norwich, Norfolk, NR10 3EE, United Kingdom
Tel +44 (0)1603 891209 Fax +44 (0)1603 890330

Site design by astutech