The following chart shows the extra power gains of removing the air dividing plate Westfield fitted to the 3.9 Injection system, and the following information details substantial power and efficiency gains by carrying out the modifications we recomend. and further port matching

This stage 3 heads, a chip upgrade and cam change are next., we will keep you updated. as soon as we get the feedback

( Vehicle ) Westfield Seight 3.9 EFi factory build in 1997

Originally the car had approx. 165 bhp. The following changes were made to get to the promised 190 bhp: Direct air feed with K&N filter plus enlarging the air-intake in the hood -matched the badly matched exhaust to the heads. (Westfield actually uses the same exhaust manifold for left and right hand side. Usually they are different because of the firing order!)

Removed some obstacles out of the exhaust. for example a short piece of 50mm pipe that was still inside the 60mm pipe welded to the catalyzers! This moved the power up to apr. 185 bhp and about 281 Nm.

After seeing your Online project "orange Westfield" I removed the air divider inside the plenum chamber. The distance between it and the first two intake trumpets is much to small (<21mm instead of the 38-57mm you would normally need) The engine gained about 4 bhp and up to 13 Nm in mid range torque. So now I have the promised 190 bhp (well almost) but still 24Nm are missing. I think the very short trumpets (53mm) cause this mid range torque shortage.


| | | |
| --- | --- | --- |
| Without Air Divider | Westfield plenum Chamber | Rolling resistance |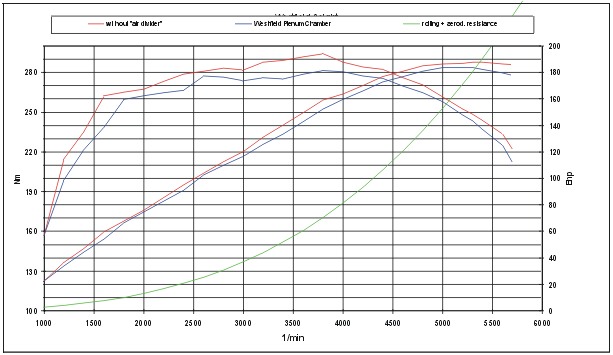 From 163 to 185bhp with such minor attention to detail, and much more to come.Taken to Stage 3 you can expect to further push this power up to 220bhp and possibly beyond.
---
To return, Please use your browser "back button"
---
links to other component pages
Back to: V8 engine and component information and pricing ] [ Carburation & fuel Injection ] [ Electrical ]
[ Transmission 2wd & 4wd ] [ Suspension, Handling,Tyres, Wheels & Brakes ] [ Stainless & Mildsteel Exhaust systems ]


---
Prices do not include local EU.Tax.(VAT).
Prices & stock are subject to change without notice. Information and advice, as always, is free.
---
---

---

© Copyright RPi Engineering 1999. contact: using our new form
Wayside Garage, Holt Road, Horsford, Norwich, Norfolk, NR10 3EE, United Kingdom
Tel +44 (0)1603 891209 Fax +44 (0)1603 890330

Site design by astutech