E-Racer with a 4.6 Rover V8??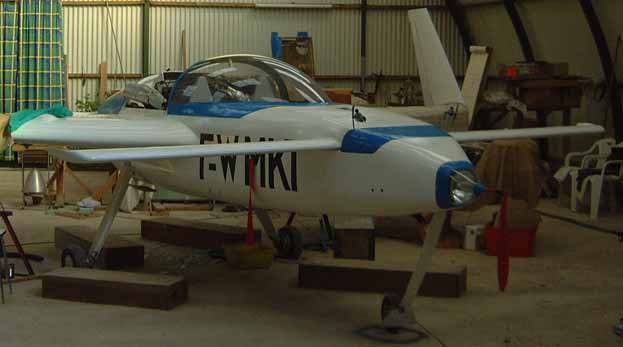 RPi have supplied this customer with a re-chipped ECU for this special application.
Hello.
running test in progress step by step of 10 to 15 mn
air temperature during test 32° celsius
engine temperature 90° celsius
radiator temparature 82° celsius
oil temperature 75° cesius
rpm correct 3.5 bar
petrol pressure 2.2 bar
water pressure less than 0.5 bar
all parameters are nominal
no vibration in aircraft structure

next weekend, running test on taxiway and runway 11 june last check by certification office before first take off
I will inform you next time

Regards
Joel.
---
hello
running test now on runway
air temperature during test 24° to 34° celsius
engine temperature 90° to 108°celsius
radiator temperature 85° to 95°celsius
oil temperature 85° to 90° celsius
rpm correct between 1000 rpm to 4800 rpm
oil pressure 3,5 to 2.5 bar
petrol pressure 2,2 to 2.1 bar
water pressure less than 0,4 bar
others parameters are nominal
no vibration in aircraft structure
maximum speed during run test actually 60 knots (111 km/h) just a little before to land off nose wheel

i will inform you next time
---
today is a good day for me

i have done the first flight with my e-racer at 11h30 local time
line up runway 13 , full power at 4200 rpm , 600 meter and take off

the 4.6 Land Rover and ecu work perfectly
engine temperature ok at 90°C
radiator temperature ok at 80°C
oil temperature at 75°C
external air temperature at 29°C
after take off i have done a small trip around airfield without retracting landing wheels at 1850 rpm with a small air speed of 110 / 120 knot
landing correct at 1000 rpm (570rpm at propeller -flop flop flop) with 80kt during final leg and 70kt when landing on the runway

stability ok in flight
air intake perfect to have good temperature in flight

some vibration in aircraft structure when full power but in correct limit

now i have certification to realize all fligt test in a radius of 20 km around airfield, and i must do minimum 15 hours flight and 50 take off / landing on , and a flight of maximum time (4 to 5 hours)
during these flight i will test all parameters of aircraft and check all time engine to know the durability and i will increase power to have a speed of 200 to 220 knots (with landing legs retracted)
after that certification will be closed

next flight sunday or monday
kindest regards
joël
---
Dear Chris,
the 4.6 Land Rover and ecu work always perfectly

engine temperature ok at 90°C in flight
radiator temperature ok at 80°C in flight
oil temperature at 80°C in flight
external air temperature at 33°C
stability ok in flight
now i have increase speed to 175 / 180 knots
some vibration in aircraft structure when full power
after analyse i find that vibration come from the reduction box
so the two next days i open the gear box and check each component and i will install special rubber blocs on the stand of this gear box
the color of exhaust tube from the engine are a little bit white may be not enought petrol ( but i don't wish any modification of engine for this moment)
i don't have pict or video in flight actually only on the ground
we will do picture and video at next flight and i will send you a copy
3h 30 of fligt now
kindest regards
joël
---
---
Disclaimer
Prices do not include local EU.Tax.(VAT).
Prices & stock are subject to change without notice. Information and advice, as always, is free.

---

---

© Copyright RPi Engineering 1999.e-mail: Copyright RPi Engineering 1999. contact: using our new form
Wayside Garage, Holt Road, Horsford, Norwich, Norfolk, NR10 3EE, United Kingdom
Tel +44 (0)1603 891209 Fax +44 (0)1603 890330

Site design by astutech