Online Projects

To see how Tim Phelps racing is going you can either follow on of the qick links in the table below or you could just scroll down the page.



---
A big thank you to PRI

Hi Chris/Lisa
I was very pleased to receive the mugs and glasses that you sent to me they are most unusual and will get used. I will put one of each with my race trophy's and the team can use the others they will be a talking point, thanks a lot.

I have fitted the parts that you sent to me petrol ump etc but have not tested it yet as I have got the suspension apart at the moment .
From Team Rupert and Tim Phelps.


---

June 2002 UPDATE

Sorry I have not been in touch lately. We have completed three A.W.D.C. events this year.
The first was a problem because I broke the rear diff after only one run not a good start to the championship.The second I had a problem with the handling on one front wheel only, due to the casing being different and the rolling distance was 100mm short and the car would not corner properly, added to fact that we hit a bolder moved into the track from the previous car and the steering wheel kicked back and dislocated my right thumb, which I pushed back into place and carried on that day and the next day to finish in third place which I was pleased with given the difficulties that we had.

Not a brilliant start, but third isn't bad with a dislocated thumb!

The third was at Tunbridge Wells where I am glad to say we came first and with just over two minutes to spare, the car was flying, the corse was very rough in places but F Fast in others 110 Mph 6th gear foot to the floor. Just wicked.

1st place!! Now thats better, that 5.2 coming into play then.

I have been extremely busy during the winter converting the truck into a Sporthome at great expense. The left picture shows the canopy, and the right showing the extra space gained by a sliding out bit. Also I have been invited to sit on the RAC MSA off road committee on behalf of the A.W.D.C. which is interesting.

Sporthome looks great, and very shiny.




---

Foot and Mouth holds up racing calendar.

Just a few words to keep up informed as to what is happening with the Race season, well it is seems that we do not even have a race date that we can look forward to yet. There is some talk of the MSA (RAC) issuing licences to venues that are not directly on farm land such as quarry sites but that has not been confirmed yet. Kings Lynn is one of these that we are hoping to be able to use first. The army have resumed use of there own ground on Salisbury plain but we have not got a date went we shall be able to race there. There is a glimmer at the end of the tunnel but nothing concrete to plan on yet. However looking on the bright side the car is ready and clean and itching to go it's full of fuel + clean oil, in fact all dressed up and on where to go and play. Not much more I can tell you at present "Bye for now" from Tim Phelps and team Rupert.




---
Rupert Off Road Racing. (New Season report. 2001)

After finishing first in class last seaseon Tim has a whole new car, a whole new RPi 5.2 engine and new 6 speed transmsiion to mention but a few changes.


Rupert Off Road Race Report Event Mini Safari pre season testing Venue Pencraig Ross on Wye Herefordshire Course 3.5 miles 10 runs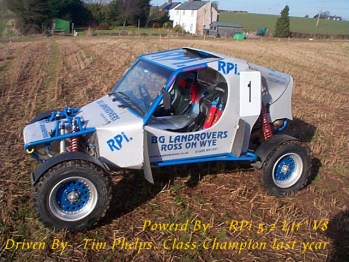 Result 2nd overall

This event was one that I have organised with plenty of help from others and is just a mile and a half from my home, it's a new venue to the AWDC and one that we hope to make more use of the future. It has a small amount of woodland that was used to slow down the pace with lots of tight turns, ( which does not suit my car all that well ) which allowed us some fast straighter bits to play on 80/90 ist over blind crests, across stubble fields, which would have been all the more enjoyable was it not for the foggy weather that just refused to lift all day apart from about two minutes flat in the afternoon. But in true club fashion we did not let that stop us, the solution was to let everybody do a parade type lap at low speed to familiarise ourselves with the course, but with a late start and only twenty cars we were able to get ten runs each, which got quicker as the day went on.

The man on a mission once again was Keith Lewis in the 4.8 Simmbugghini who finished 14 seconds ahead of us despite getting stuck in some deeply rutted bits towards the end of the day. I was not on the pace as I would like to be, I am still getting used to the power of the 5.2 engine and the Quaife 6 speed sequential gearbox and my different driving position, some adjustments are needed and some practice before I can drive at full pace. The car is Awesome and is every thing that I wanted it to be, but now I need to bring my driving up to the same high standard. Next event Round 1 All Wheel Drive Club Championship Venue Sidbury Hill, Salisbury Plain, Wilts. Date Sunday 4th March 2001 Thanks from Team Rupert sorry no action Photo's due to the fog!


---
New Vehicle specifacation.


MATTSERATI IR4
(Independently sprung Rupert version Four)
Off Road Club Racer
built by Team Rupert Four wheel drive spaceframe rolling chassic
by M J Lee Engineering. www.mjloffroad.co.uk



Engine & Drive-train Mid mounted Rover V8 5.2 Lt. 360 bhp By RPI International ltd (sponsors) the engine is facing the rear of the car driving through an AP www.apracing.com multi plate 182mm A ring Cerametalic with concentric slave cylinder in a specially built Quaife www.quaife.co.uk bell housing bolted to a rear wheel drive Quaife six speed sequential gearbox with digital gear position readout on dash. Which drives through a flexible coupling to a Milner www.milnerconv.co.uk reverse rotation transfer box that drive the front and rear propshafts. Via Quaife torque bias front diff using GKN racing drive shafts all equal length, to Izusu hubs the rear diff is a special build by Quaife available through M J lee which is a solid spool diff in a Ford casing and Ford deep plunge constant velocity joints with race cages and modified boot carriers.



Suspension Long travel suspension to soak up all the bumps and lumps 18" at the back and 14" at the front which is controlled by a pair of Fox Shox's from Trevor Milner one coil over on each corner with dual rate Eibach www.eibach.com springs 250 / 500 lbs. rear and 1200 / 500lbs front.



Wheels.TyresThe wheels are 3 piece spun aluminium from M J Lee with bead locked a very light racing wheel, tubeless with Fedima Extreme directional 205 x 16 tyres with mud guards directly over the tyres that self clean trials bike style. Equal camber on all wheels with toe in rear and parallel on the front.



SafetyDiff guards and flat belly pan between fully enclosed engine transmission and steering with a baffled bonnet to keep things inside dry and out of harms way.



Keepingit all cool.Air flows through the bonnet and over the front diff and the transmission to the engine bay and in over the roof to an aluminium radiator and Mocal oil cooler draw by two 16" Tripac fans, air intake to the engine is through an ITG oiled filter and protection sock for the wet and dusty bits.



Comfort.Cobra Aqua seats, OMP belts, Sparco 380mm suede removable steering wheel, speedo, tacho, oil, temp, fuel, gauges and Peltor intercom to finish it off. Just the bare essentials really for Off Road Racing.



Events Diary.You can see this car in action at A.W.D.C. events this year starting with the 4th March at Sidbury Hill near Tidworth, Salisbury Plain, Wilts follow the A.W.D.C. orange triangle signs, entry is free. Round 2 is at Bagshot Surrey on the 25th March Round 3 is at Kings Lynn, Norfolk on the 15th/16th April. for full details see www.awdc.co.uk



---
Rupert Off Road Racing. (end of Season report. 2000)
Its nearing the end of the Rally Season, ( Time to get ready for the new !) So!,
Some words of wisdom seem appropriate from Tim Phelps Himself. .,

Its also worth mentioning, That most of the Competition, are running engines already into the 5.0 litre category with many 4.6's 4.2's & 3.9's etc.
Its obvious that a Combination Of Tim Phelps superb Driving, His Chassis and suspension design, , RPi V8 Engine power & a huge team of other hard workers, grafters and administrators are all just a Small but essential faction's thats needed to keep Tim and his Vehicle in front again.
Well done everyone.
.
---
Last years Class Winner "Tim Phelps" with RPi 3.5 Race Engine

Hi Chris,
After ten laps of the 6.5 mile course on Sunday the 10th at Copsale Horsham near Gatwick at this well attended round 8 of the All Wheel Drive Club we finished Ist Overall with two minutes lead on the next car. We are leading the points, this gives us 100 points towards the championship total of 777 and gives us a lead of 39 points over Keith Lewis who would have to score 100 in both of the last two events to draw level with us.
---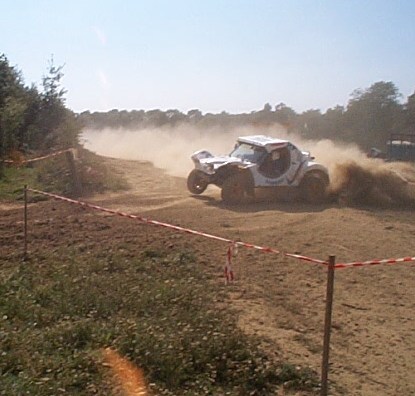 Even if we don't compete in the last two rounds, the score in the best 8 results from 10 rounds, all we need now to seal the championship overall trophy is a first in class even if in the unlikely event Keith scores 100 x 2
---

---
---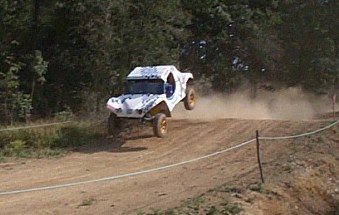 WWW material or what !!!! RPI motor beats larger engined cars outright.
---
Hi, Chris, Its more good news!!!

We won again 1st overall with over three minutes to spare at the new All Wheel Drive Club Site at Combe Martin north Devon this two day event last Saturday and Sunday.
That was round 9 of 10 the last one is at Seven Sister's where they are holding part of the RAC rally this year. We are going to have a yeeeee ha of a time there and enjoy ourselves Because we have enough championship point's to win this season the results are not yet officially released yet but it is in the bag. I will get you some trophy presentation photo's for the web. Many Thanks Tim Phelps and Rupert crew.


---
Next Season we looking to upgrade the 3.5 ,( yes miles in front, and its still only a 3.5) But not for much longer !
A. 5.2 Rpi V8 and 6 Speed transmission is on the Cards,
Sponsorship enquiries Considered.
---